COPPER AND FIBER INSTALLATION
LanTEK IV (Copper and Fibre Cable Certifier)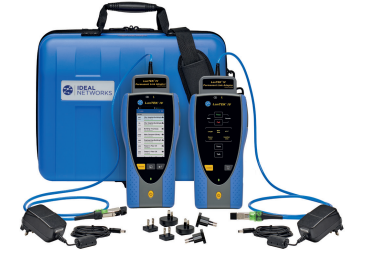 Features
• 500 and 3000 MHz models for Cat 6A/class EA and class FA, Cat 8 and Class I/II testing
• Battery life: 8 hr. typical
• 7 second test time for 500 MHz tests
• 25 second test time for 3000 MHz tests
• All autotests perform TCL, ELTCTL, DC resistance unbalance, Time Domain NEXT troubleshooting and Time Domain Return Loss troubleshooting with no extra test time
• Storage for up to 2500 tests internally
• Extremely rugged test adapters that are captured by the instrument to prevent connector damage
• Can operate from AC main power with or without the battery installed
• High-resolution capacitive touch colour display
• Integrated Wi-Fi (2.4/5 GHz 801.11b/g/n) connectivity. Models available with Wi-Fi permanently disabled
• Intuitive user interface to reduce training and testing time
• IDEAL AnyWARE Cloud and Desktop reporting systems simplify reporting and project management
Applications
• Wiremap testing
• Determine distance to fault
• Determine cable length
• Cable certification - copper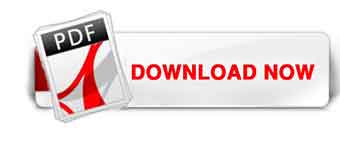 LanTEK III | FiberTEK III (Copper and Fibre Cable Certifier)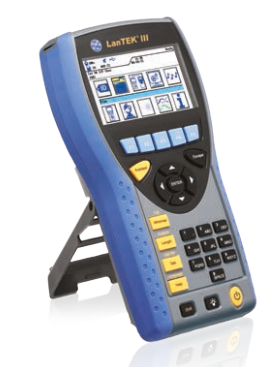 Products Feature
The LanTEK III is an easy to use cable certifier that meets existing TIA and ISO/IEC performance requirements for testing up to Cat 7A/1000MHz. FiberTEK III adapters are used with LanTEK III for fast and simple certification of high bandwidth single-mode and multimode fibre optic cabling including support for encircled flux testing.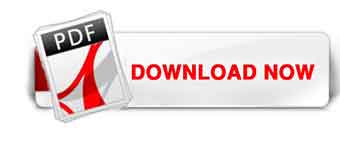 Cable Tracer Ideal Networks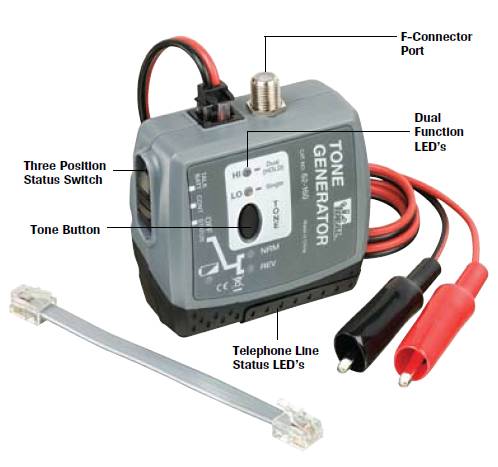 • Products Feature
• connector port for toning and tracing of coaxial CATV cabling systems
• Three different tones selected from front panel
• Tone can be added in any status – allows test sets without monitor feature to pick up tone
• Separate Talk Battery status for increased voltage and power for test sets
• Auto-OFF of tone after three hours to conserve battery life
• Constant tone amplitude over life of battery
• Two tone amplitude – normal and half
• No power draw in continuity status with leads open
• RJ jack allows use of modular cable or alligator clips
• Low battery LED indicates when to change battery
• 9 volt battery included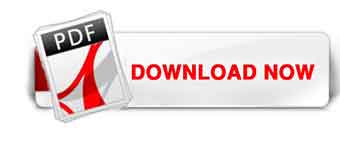 FIBER INSTALLATION
• FIBERMASTER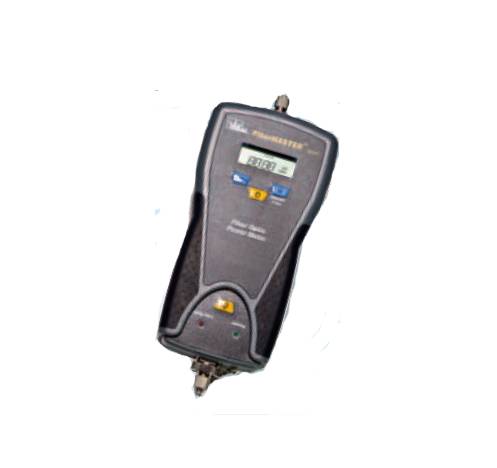 • Products Feature
• Fibre Optic Power Meter & Light Source — four wavelength power meter for multimode and single mode testing,and 850nm multimode LED light source.
• Calibration Function — stores reference power level for quick dB loss measurements eliminating the need to manually calculate loss.
• Save Time and Money — power meter features 2.5mm universal and FC adaptors, light source includes ST, SC and FC adaptors to test the most common interfaces.
• Ready for FTTx — 1490nm measurement wavelength for use with nearly all single mode Fibre To The Home applications.
• Designed for the Field — Unique "docking" light source and easy three button operation make this the perfect fiber tester for use in
Applications
• Attenuation test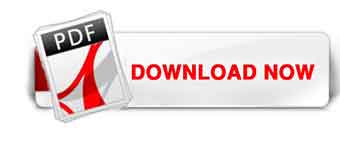 • Ideal Networks Optical Wattmeter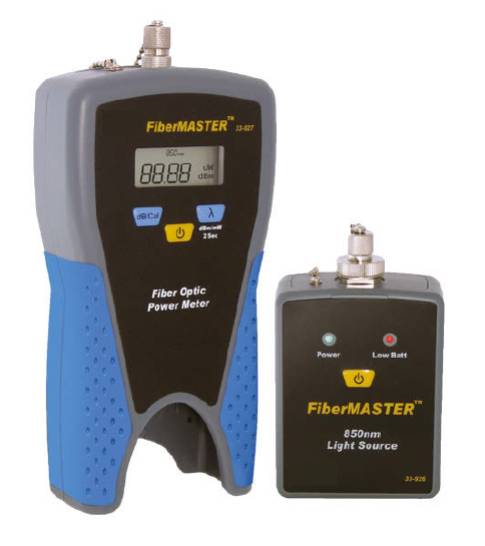 • Products Feature
• Trobleshoot fiber Optic netwotk components with optical power meter.
• Display power loss in dB using reference function
• Measures fiber optic power in millwatts (mW) and decible-milliwats (dBm)for troubleshooting
• Unique from factor for easy storage of the light source allowing full operation of both light source and power meter.